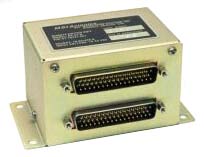 Download RS-24N Manual
(Adobe pdf format)
RS-24N, Remote Switch Unit, 24-Pole
MSI P/N 97-10241-001
MSI's popular RS-24N is a bulkhead-mounted general purpose remote switching
unit, that provides 24 poles of user-definable SPDT (Form C) relay contacts for a
variety of avionics switching applications.
Each pole will switch up to 1 Amp at 28 VDC (resistive). The unit features good
inter-pole isolation, and is also good for navigation signals, audio, video and other
sensitive low-level switching applications.
All components within the unit are of the highest commercial quality. The RS-24N
features sealed, gold-plated relays and MIL-Style connectors. The internal circuit
boards are of flame-retardant glass-epoxy material, and are conformally coated to
protect against moisture, dust and fungus. Even the aluminum housing is chemically
coated for corrosion protection.
These units are FAA-PMA approved, and are exact, pin-for-pin, drop in replacements
for the Northern Airborne (NAT) RS24-020 and RS24-035 Remote Switches.